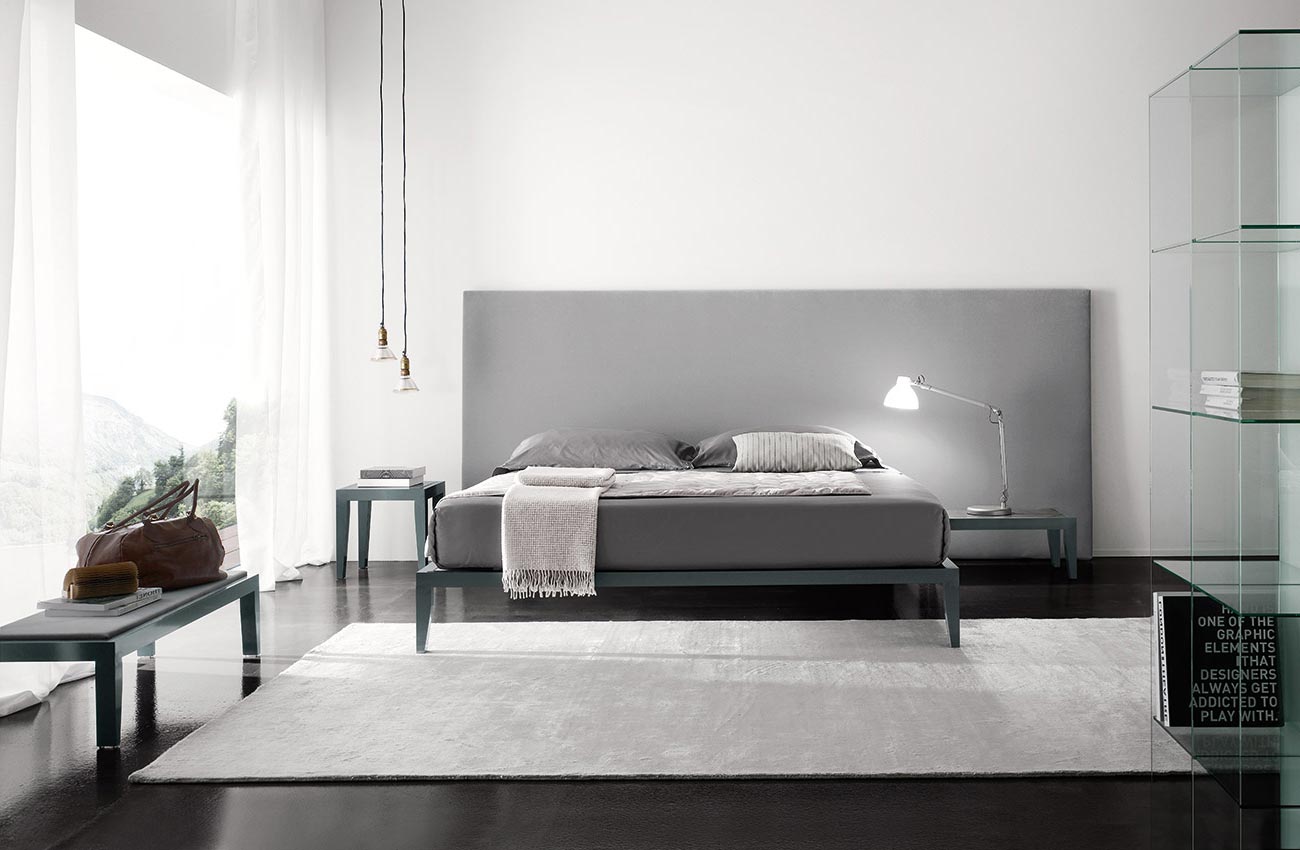 SOMMIER BED
A sommier bed is the maximum expression of versatility and practicality.
This type of bed is mainly used in hotels because it has the smallest footprint and because it can keep objects inside its storage.
The sommier bed has become particularly trendy not only for its marked modern style, but also because it integrates very well into a design project that can involve not only the bed, but the entire architectural space.
Sommier bed: what it means.
A Sommier bed is a storage bed without the headboard.
This type of bed is very convenient because its footprint coincides with that of the mattress. Therefore, the space occupied by a sommier bed is as small as it can be.
Duomo Design sommier beds can have frames of different materials, for example they can be in aluminium or in wood.
This type of bed can have many sizes: you can have a single or double sommier bed.
You can also have three-quarter sommier beds or Queen or King size sommier beds.
The choice of the right size for a sommier bed depends on the space available and the intended use.
What makes one lean toward one size or another for a sommier bed is the design project that lies at the base of the bedroom decor.
The advantages of a sommier bed.
A sommier bed smartly organizes the available space thanks to the storage where you can easily store blankets and pillows.
The lack of a headboard in a sommier bed makes it very versatile. For example, you can place the bed in the centre of the room or next to the wall, perhaps close to a boiserie.
Another application of a sommier bed is to easily create a double bed from two single beds: just place them side by side and you're done!
Sommier beds are perfect for bedrooms with a modern style, due to the minimalist structure that characterizes them.
Sommier beds for the hotel industry.
Sommier beds are particularly appreciated in the hotel industry for their beauty, versatility, and practicality.
Hotels and bed & breakfasts need to optimize space and use beds for different hospitality solutions.
To meet these needs, Duomo Design provides contract solutions for the hotel industry.
Duomo Design creates its sommier beds only with fireproof materials (such as fireproof eco-friendly leather) that can be easily washed to ensure a comfortable and safe rest.
For wide-ranging furnishing projects, you can contact Duomo Design: this way Duomo Design will help you create customized bedrooms.